My brother has wanted White Call Ducks for a few years now and I was in the Sales Pens at the National Poultry Show back in November and spotted this pair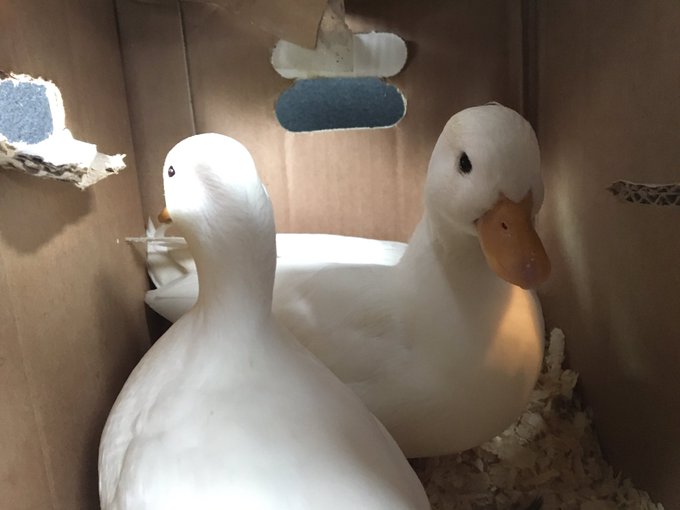 They were £100 as they're exhibition quality and after chatting to their breeder, I bought them as my brothers Christmas present which he was delighted with
They settled in really well and we planned to hatch some ducklings in the Spring but sadly the female died on New Years Day, nothing suspicious that I could see, just one of those things.
So I'll be looking for another duck or two in a few weeks!
Lewis
Gary
Hughie
Check out my
Vet School blog
Chronic Clucker
Posts: 13840
Joined: Wed Jun 06, 2007 3:36 pm
Location: Birmingham/Slovakia
---
What beautiful ducks and such a lovely Christmas present.
Very sad that the female died though.
I hope you find a friend for the other one soon.
- Gemma (8/12) Polly (7/14) and Zoe (7/14) the older pekin bantams
Lily (5/17) Milly (5/17) and Molly (5/17) the younger pekin bantams
Eggcentric Egluowner
Posts: 6589
Joined: Tue Jan 20, 2009 5:01 pm
Location: Hampshire
---
They are lovely and what a shame. Excellent present though
Penny and Amy
SL Wyandotte bantams
Bernadette
Millefleur pekin 1st egg 13-09-14
RIP Shelly
Lavender Pekin 1st egg 17-03-15
RIP Barbara
Araucana bantam 1st egg 09-03-17
Margot
Araucana bantam 1st egg 26-11-16
Smudge and Millie - heinz 57 moggies
Effusive Egg Layer
Posts: 3838
Joined: Wed Jun 18, 2014 6:12 pm
Location: Cornwall
---
---
Return to Ducks, Quail and other Poultry
Who is online
Users browsing this forum: No registered users and 1 guest